Ground Penetrating Radar and Concrete Scanning
We employ expertly trained analysts that use state-of-the-art GPR (Ground Penetrating Radar) equipment to find common embedded objects and other subsurface hazards that are hidden in the concrete.
GPR Public Utility Scanning
Striking an underground utility can result in great costs. Repairing a utility line can be expensive, not to mention that you and your community would lose the utility service itself. Most importantly, striking a subsurface object can cause serious injuries to you or the workers on the site.
GPR Private Utility Services
So you're about to dig or excavate on your property? Removing a tree? Or maybe you're installing a fence? It is always a wise idea to locate underground utilities before performing any type of digging or excavating on your property. This is where a private locator, like Structure Scan would step in and complete private utility locating.
Our skilled analysts can also detect voids within or underneath concrete slabs. With that being said, concrete scanning is generally a complementary service to concrete cutting, coring or grinding. Our services can be pivotal in your construction projects when it comes to cost reduction and damage prevention. Scan before you cut so that you won't have to encounter financial loss.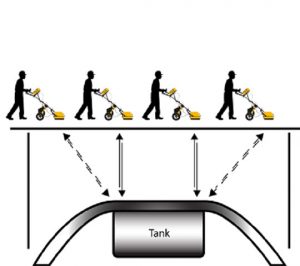 An illustration of a technician easily detecting the depth and position of an underground storage tank using the US RADAR SEEKER 2 GPR System.
Example of an Autocad site layout showing all of the detected utility services overlaid on the surveyor drawing with GPS coordinates
An illustration of a technician detecting he different underground soil layers using the US RADAR SEEKER 2 GPR System.
Structure Scan offers concrete and ultra sonic thickness scanning.

Making use of the latest aerial inspection technologies we have made significant advancements in the way engineering assessments are undertaken. Gone are the days of rope access methods for inspections. We can prove huge cost savings, zero Health and Safety risks, zero downtime and fast delivery of actionable information. We provide inspection solutions in the following fields: Solar, Telecoms, Power, Oil, Gas, Dams, Bridges, Facades, Silos, Waterproofing etc. If you need to map out subsurface terrains for a number of application, Structure Scan can provide a quality service to you.

We have a wealth of experience in the industry and conduct our services for a number of different applications.
Results can be produced by the following methods: